In November, School of Business Dean Yunzeng Wang was the featured speaker at the first in-person Associated Students of UCR (ASUCR) town hall meeting of the 2021-22 academic year. Among the topics discussed by senators, students, and the dean was the issue of increasing visibility of the School of Business within the student senate chamber, a lingering issue of great importance to all business students.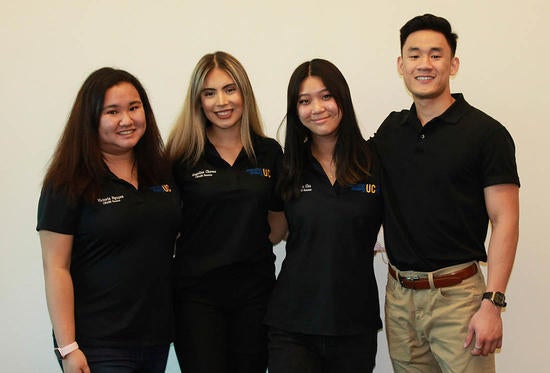 Currently, there are no senators from the School of Business because the two-year business major is not a four-year program. College of Humanities, Arts and Social Sciences (CHASS) senators represent both CHASS and BUSINESS students and were the senators who facilitated the School of Business town hall meeting.                                                           
"The approval needed to create School of Business senators has been voted against by the senate," says business administration student and CHASS Senator Victoria Nguyen '23. "Although our title is CHASS senator, we strive to represent the School of Business as much as possible by pushing for more representation. Changing the ASUCR bylaws takes time."
The support of Dean Wang enabled much of the success of the town hall. He spoke about the future of the School of Business at UCR, including major initiatives and projects that are currently being planned. 
"In years past and over the next three to five years, we have worked [and will continue] to improve inconveniences of transferring from CHASS pre-business to the School of Business," said Wang. "The current structure puts extra stress on students to meet the minimum requirements needed to transfer."
Each student on the pre-business track is required to maintain a grade point average of 2.7 or higher to be eligible for a transfer into the School of Business. Once the transfer process is complete, students may continue with their upper-division requirements as business students. Senators and the dean are advocating for immediate enrollment in the School of Business to create a cohesive experience without requiring students to apply for transfer.
"With a four-year business program, more time could be spent developing the undergraduate program and training students for graduate school and career success," said Wang.
Another topic covered during the town hall was the new building for the School of Business. This would shift class locations from the University Theater to the School of Business complex, encompassing the new building and Anderson Hall. While this is still in the planning stages, a target opening date is expected for late fall 2024.
ASUCR senators plan to return to in-person town hall events later in the winter quarter or early spring quarter.
__________________________________
Banner image:  ASUCR senator Helen Chu '23 (right) and UCR Business dean Yunzeng Wang (left)