Organized by a student-led planning committee, the university's first-ever annual Aerospace Conference hosted representatives from the industry during the April 2021 virtual gathering.
"A team of about 50 students organized this event," says business analytics student Pengchi Xiao '22, co-founder of the conference and manager of the many groups that collaborated to host the event.
From the immersive online interface to the comprehensive agenda and the pre-event marketing, the conference was completely directed by School of Business and Bourns College of Engineering students.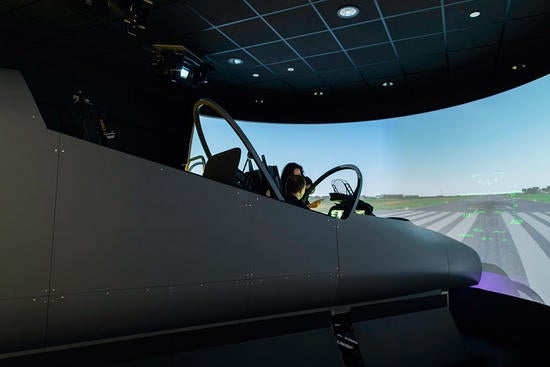 The virtual conference included engineering seminars, keynote speakers, and networking opportunities for more than 160 attendees, including UC Riverside alumni, who came together for a panel discussion about their experiences in the field of aerospace.
"I was astonished to see that my fellow alumni are doing such amazing things," says Melissa Quero-Gopar '20 of Raytheon Intelligence and Space. "We all had different majors, but as in any industry, you can find so many different roles if you really strive for it."
Bourns College Dean Christopher Lynch kicked off the event with a welcome to participants followed by speaker sessions about the aerospace industry and its career opportunities. Seminars highlighted underrepresented minority students breaking barriers, and other workshops offered insider tips.
For the student organizers, the opportunity to apply classroom concepts to a tangible initiative was ideal as there were immediate real-world results. A reflection of the event's success, the Aerospace Conference's Instagram account gained a following of more than 500 interested supporters, not only students, but their friends and family, too.
"In class, we're learning definitions and technical skills," says business administration student Hannah Dembla '22, head of marketing for the conference. "There's a difference between learning about marketing in class and applying information that would reach our target audience."
Turnout and engagement were important deliverables monitored for the conference's corporate sponsors, including Relativity Space, a Los Angeles-based aerospace manufacturing company that provided both funding and speakers for the virtual seminars.
"My idea for this conference is to provide for leadership opportunities for students with different disciplinary backgrounds," says Xiao. "Business majors must understand the needs of their customers so they can deliver the best product and a high satisfaction rate. The collaboration involved in hosting an event like this one allows students to learn from people outside of their areas of study."
As the aerospace industry continues to flourish as a particularly competitive field of work, UCR business students make space for student leaders to get involved. The second Aerospace Conference is set for April 16, 2022.