As students prepared for the fall 2021 quarter, the A. Gary Anderson School of Management (AGSM) rolled out two immersive virtual readiness courses available to incoming graduate students. Both programs were created by graduate advising students and staff to promote a transitional experience for these students before ever stepping foot on campus. 
#SummerwithUCR is an initiative of UCR alumna Amisha Sharma '21. The program begins with informing students about resources offered by UCR and AGSM. 
"We've shared upward of 6,000 messages with nearly 300 members through Slack," says #SummerwithUCR intern David Ayrapetyan. "We're always trying to come up with the most creative ways to accommodate students. There were no live sessions on Zoom because participants were in varying time zones — accessibility is important." 
Presentations covering various topics were posted onto Slack on Tuesday and Thursdays, some of which included #RecreationAtUCR, #AlumniAtUCR, and #InvolvementAtUCR. 
Ayrapetyan was tasked with creating four- to seven-minute clips on each weekly topic, largely including pre-recorded interviews with current business students. Participants then had the opportunity to interact with one another through engagement prompts submitted on the Slack channel designated for each week. [Story continued below the image.]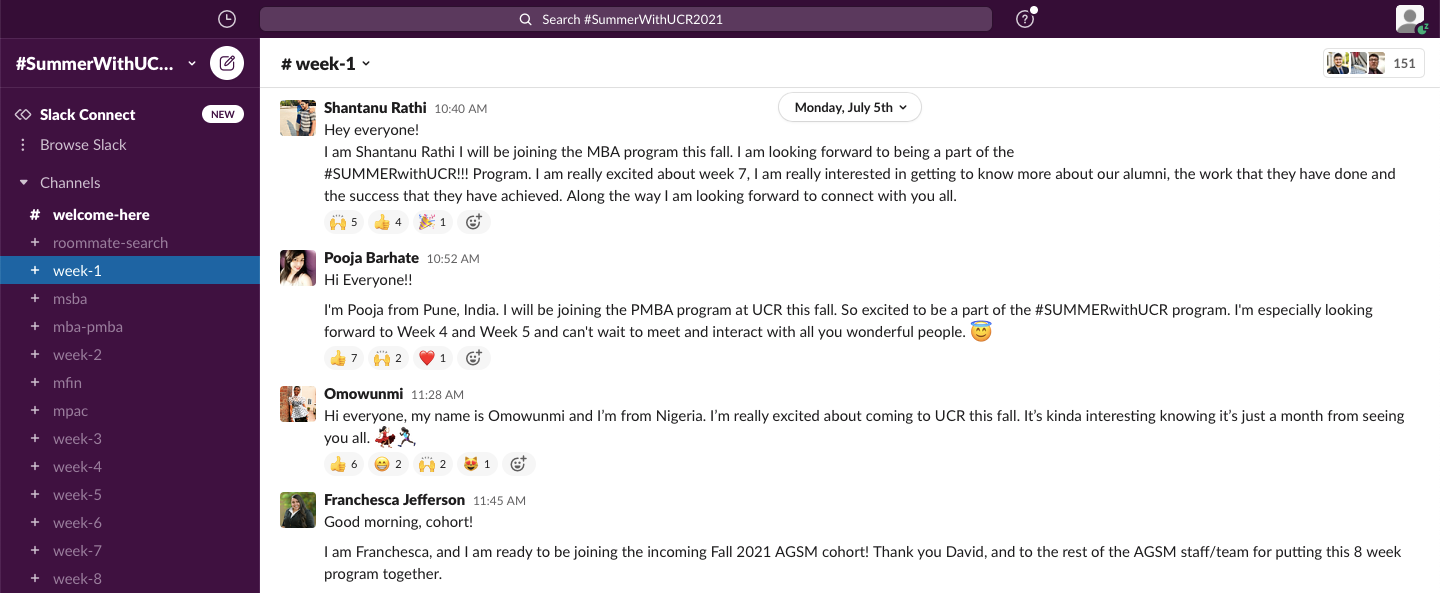 "This program was an absolute success," says graduate student Akanksha Agarwal '22. "My favorite week was #ResourcesAtUCR. … It was great interacting with the Career Development team." 
Business Ready is another program that took place virtually over the summer. Students had access to a similar Slack channel as well as an individualized eLearn portal specific to the workshops conducted through Business Ready. Having a community course on eLearn provides access to enrolled students even after the event reached completion. 
Supporting this initiative is a collaboration between Graduate Admissions, Graduate Advising & Student Services, the Dean's Office, and AGSM Chief Financial Administrative Officer Kennett Lai.
"We started developing the community course in May," says Sarah McBride, assistant director of Graduate Advising and Student Services. "It has been super exciting to see different departments get on board and offer support." 
Under Business Ready, incoming business students met twice a week for Zoom sessions. Each meeting honed in on the specific aspects of business networking and career preparation. Participants had the opportunity to discuss strategies for meeting with recruiters, and they also crafted 30-second "elevator" pitches delivered to faculty members in breakout rooms. Additionally, staff curated an alumni panel to promote interaction between Highlander alumni and the incoming cohort.
"Sometimes it can be really challenging if you come from a background with little experience in digital networking," says McBride. "One of the ways we've tried to help support students' practice is utilizing breakout rooms and guided questions."
Completion of the Business Ready course yields eligibility to earn the career readiness badge, indicative of UCR Business students' qualifications for internships and job opportunities.