UC Riverside is one of the most diverse and inclusive institutions in the nation, serving as an incubator of new knowledge, an engine of social mobility, and an economic powerhouse.  UCR has paved the road for entrepreneurs, innovators, and creative minds alike for more than 60 years. 
After Alex Chiou graduated with a degree in Business Administration in 2002, he spent 3 years abroad in China working as a Project Manager for one of the world's largest OEM loudspeaker manufacturers. By servicing world famous speaker brands and working side-by-side with world-renowned speaker engineers and designers, he became an expert in product manufacturing and design. 
He returned to Riverside with the knowledge he gained and founded Vanguard Dynamics in 2011. Alex has made a profound impact on the audio industry with award-winning and innovative smart home audio products, earning him the Top 40 under 40 award by Dealerscope Magazine in 2013.  
Alex's current project, VAIL Cast, is a stereo amplifier that will transcend how audio enthusiasts enjoy music at home. VAIL Cast is the world's first fully-universal amplifier that can stream music from all of today's most popular smart home digital assistants including Amazon Alexa, Google Assistant, and Apple Airplay 2. There are many amplifiers on the market, but VAIL Cast is the only amplifier that works with all 3 platforms simultaneously.  
Alex has been utilizing all the startup tools and resources available in the city of Riverside such as EPIC, the UCR graduate school of management, Riverside ExCITE, and the Economic Development Department to help his company raise awareness for VAIL Cast and thought this would be a great opportunity to reconnect with the community. "Every student has asked themselves what they want to do after they graduate. I wanted to provide students with a real life experience of launching a Kickstarter campaign." 
"A challenge all businesses face is how to let the world know about new products or services.  Instead of hiring a marketing firm to launch a Kickstarter campaign, I reached out to resources that the city of Riverside and UCR had to offer in order to help form a marketing team of talented UCR MBA students and utilize the marketing strategies taught at UCR today."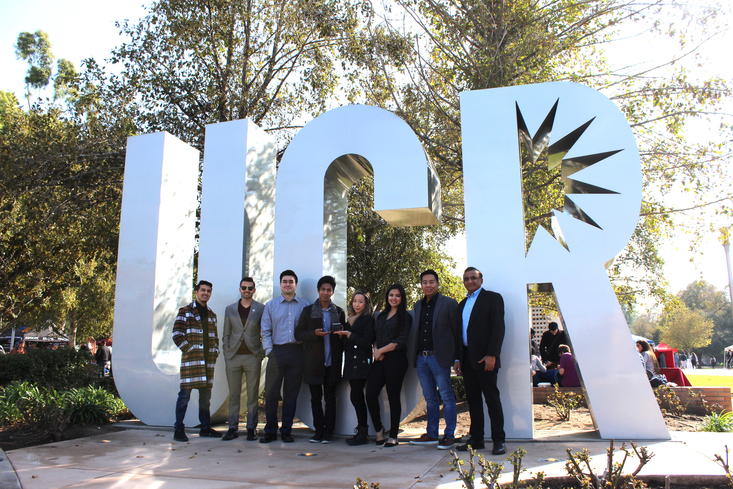 Alex has teamed up with five UCR MBA students, Alex Waskul, Eduardo Tellez, Jamie Linares, Lily Luu, and Randy Pimentel to launch a Kickstarter campaign that will showcase VAIL Cast to the world. Each member contributes greatly to the company and performs tasks that cater to their unique strengths, from Lily and Randy's exceptional writing and video editing skills, to Eddie's descriptive storytelling ability, to Jamie and Alex W.'s careful planning, coordinating, and graphic designing capabilities.
Alex has also gained continual support and guidance from Dr. Ashish Sood, AGSM Associate Professor of Marketing, Robert St. Juliana II, AGSM Career Center Director, Mai Temraz, Blackstone LaunchPad Entrepreneur-in-Residence, and Steve Massa, City of Riverside Economic Development, to ensure that the team had all the insight and expertise needed to become successful.  
They are now in the early stages of crowdfunding and gaining support from their fellow UCR family in order to spread the word of this new innovative technology that may, one day, become the standard for home entertainment.  If you want to learn more about Alex and VAIL Audio, you can see him pitch at an upcoming entrepreneur meetup called 1 Million Cups on Feb. 19th.
Here's how you can help:
●    Like and share our Facebook Page: www.facebook.com/vailaudio/
●    Follow us and share our Instagram: @vailaudio
●    Follow and retweet our Twitter:  @VAIL_Audio
●    Support us and subscribe: www.vailaudio.com/kickstarter