Riverside, Ca –
Alumnus Defined by Service and Giving Back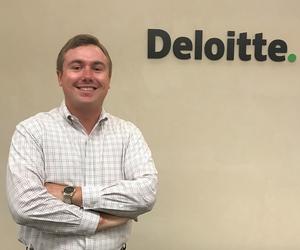 Turner Stanton's college career is best defined by his unwavering commitment to service to the Highlander community, a commitment that has only grown stronger now that he is an associate for Deloitte and Touche in San Francisco.
Turner graduated Summa Cum Laude in 2017 with a B.S. in Business Administration and a minor in Political Science. As a University Honors student, he wrote a cutting edge senior thesis focusing on Blockchain, the underlying ledger for Bitcoin, well ahead of its mainstream awareness.
Turner's history of service started week one of freshman year when he attended an Association of Latino Professionals for America (ALPFA) club meeting. He strongly believed in the club's purpose of providing students the space to develop their professional selves and create a bridge from the classroom to the professional world. He served two terms as the organization's President, bringing major companies such as Disney, Deloitte, PwC, Warner Music, and others to campus to recruit students before graduation.
"I firmly believe if we have more proud alumni actively coming back to campus, and students who are not afraid of hard work, the UCR School of Business will rise to be among the first-choice schools in the nation."
Turner showed unrelenting dedication to academic excellence and service throughout his college career. He served as Chief Ambassador for the School of Business Student Ambassador Program and was part of the Dean's five-year strategic planning committee. Turner was the 2017 Commencement Speaker, a role he took as a final opportunity to give back to students.
Turner has specialized in client services for technology and financial services industries. Additionally, he serves as a representative for Deloitte on the Bay Area Council's China Committee. Despite his commitments, Turner's engagement with UC Riverside has gotten stronger.
UCR School of Business alumni and students connected at the 2018 Association of Latino Professionals for America (ALPFA) National Convention, held in Las Vegas. UCR students were able to network with the best names in business through UCR alumni who represented companies such as Deloitte, PwC, KPMG, Goldman Sachs, and Google. Multiple UC Riverside ALPFA members received internship and full time job offers from top tier companies.
Turner Stanton, represented Deloitte at the convention. His career with Deloitte started at the 2014 convention with an internship and ultimately a job offer from Deloitte. This year he was on the other side, interviewing top candidates for internships and employment opportunities.