1907
Founded in 1907, the University of California, Riverside was originally as a citrus research station, forming a firm foundation as a college of research. Opening its doors as a general campus in 1954, the University of California, Riverside was established.

1970
UCR established the Graduate School of Administration in 1970, starting a long tradition of dedication to teaching and research in business. The inaugural class of '71 became the first to graduate with the UCR MBA.

1980s
In response to the changing business landscape and rapidly evolving professional demands of the 1980s, UCR changed the curriculum and direction of the Graduate School of Administration, with a clearer focus on research and education in business management, and renaming it the Graduate School of Management.

1995
In 1995, a transformational gift from the Anderson Family Foundation gave the graduate school its namesake, the A. Gary Anderson Graduate School of Mangement, and propelled the school to new levels of recognition on the national and international stage.

2014
The School of Business continued to receive support from the Anderson Family, and a $2.5 million gift in 2014 from the A. Gary Anderson Family Foundation created endowed chairs for faculty and scholarships for local graduate students.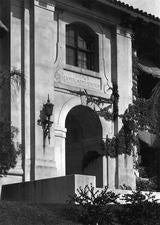 Today, UCR School of Business is one of only three UC schools to offer undergraduate and graduate business programs. Both are ranked in the Top 100 Best Business Programs in the US.
Now the home of the highly ranked A. Gary Anderson School of Management, this 1917 building was originally the home of the California Citrus Experiment Station – the groundbreaking research facility that contributed greatly to California's agricultural industry.
Looking Back Over 20 Years