THE USA SHORT PROGRAMS
Washington, D.C. 
Politics, Policy and Finance – the Governing Institutions of the United States 

December 11 - 13, 2022 | Past Deadline: November 20, 2022


The program is open to the entire UCR community!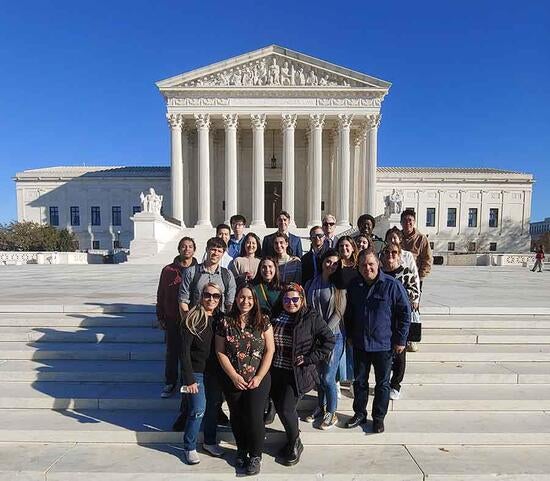 This short intensive program is designed to expose students of all degree programs – both graduate and undergraduate – to the nation's capital. Participants will spend two-full days with direct access to policy scholars and influencers in the heart of Washington D.C. The program includes briefings, lectures, and cultural tours of the City. Open to all members of the UCR community, not only to students.
 
Arrival Sunday – Welcome to Washington D.C.
Participants are encouraged to explore the City, visit museums and settle in

Day One – Policy in the Current Political Climate 
9 am – 12 pm: Lectures at George Mason University, Schar School of Policy and Government, Arlington, Va. campus 
Topics: 
 - Political Polarization 
 - Gender and Race in the Policy Context 
 - National Security and Intelligence 
Meet at Arlington National Cemetery and group visit to the Tomb of the Unknown Soldier 
City tour of Washington, D.C.
Dinner at leisure

Day Two – Government in Action (or Inaction) 
Briefing at a federal agency such as the Department of Agriculture – How law is implemented
Briefing at a lobbying firm – How policy is influenced 
Briefing with a D.C. national security expert – How governing really works 
Exterior walking lecture with Dr. Jasso at the Supreme Court, Library of Congress, and U.S. Capitol
Program concludes 

Day Three – Individual return or continue your D.C. journey 


Lectures by Dr. Jasso will include the public policy process as well as fiscal and monetary policy.
For More Information on the Program:
Please contact Dr. Sean Jasso
---
Silicon Valley
Three-Day Intensive of The Epicenter of All Things Tech 
Dates forthcoming
We will explore the academic and corporate giants of technology - Stanford, Berkeley, Google, Facebook, and more. 
Lectures on the future of tech and Silicon Valley's enduring influence 
Our inaugural trip to Silicon Valley 
For more information, contact Dr. Sean Jasso.
New York City
Three-Day Intensive in Manhattan - The Financial Capital of the United States 
Dates forthcoming
Our 2nd annual trip to NYC
We will explore the incredible energy of America's largest and most dynamic city
Visits include Wall Street, the UN, banking and policy executives, cultural monuments like the Empire State Building, the World Trade Center and a Broadway Show
For more information, contact Dr. Sean Jasso.