UCR Oxford - Cambridge Residency
Oxford Young Entrepreneurial Leadership Program
12th Annual Oxford Young Entrepreneurial Leadership Program - for all majors
March 23 – March 28, 2020. Oxford, England
In 2010, the UCR School of Business launched the 'UCR at Oxford' program during spring break. Over 200 UCR students have spent their spring breaks in residency at Oxford, participating in customized lectures for our UCR cohort and visiting important cultural and corporate sites, including Blenheim Palace (birth place of Winston Churchill), BMW's Mini Cooper manufacturing plant, Prodrive's manufacturing plants, and various signature landmarks.
The 2020 Oxford Young Entrepreneurial Leadership Program will focus on the Internet of Value and how technology is reshaping the workplace. The program will explore cutting edge new technologies such as blockchain, bitcoin and other crypto currencies. Learning outcomes will further target how AI and machine learning can enhance organizational productivity. The skills learnt on the course will enable students to develop their entrepreneurial awareness and creativity, and also their leadership capabilities which can then be applied to any business environment. 
The 2020 'UCR at Oxbridge' (Oxford AND Cambridge) program will be held at Mansfield College which is one of the 38 colleges within the University of Oxford. The University of Oxford is the oldest English-speaking university in the world and has been educating leaders for over 800 years. Not only will you experience the majesty of Oxford, but you will spend one of the days in Cambridge, the UK's second oldest university. Here, you will receive lectures from experts in blockchain, bitcoin and peer to peer lending. Do not miss this amazing opportunity to future proof your career!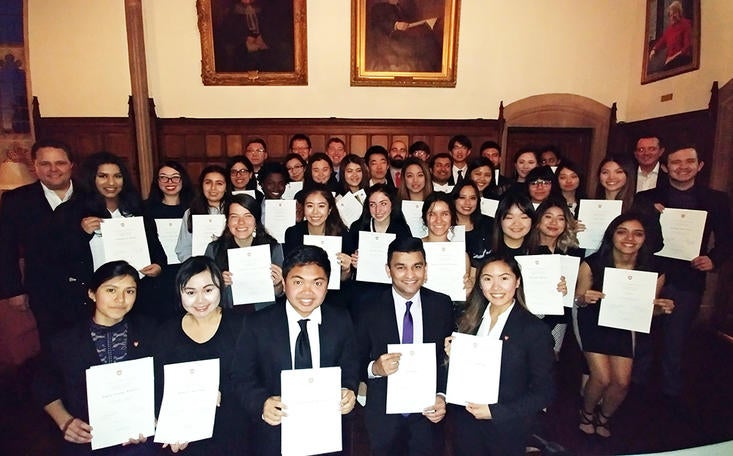 Oxford Program Central Aims
Engage with Oxford business professors and Oxford academics, as well as business and entrepreneurial practitioners.
Learn how to develop critical business skill sets in this inspiring educational environment.
Learn to unlock your own entrepreneurial and leadership talents.
Discover what it takes to start up a business and grow it through the first three difficult years.
Learn how to launch the business into the global market.
Visit some of England's most innovative and exciting companies.
Visit some of England's most important and inspiring cultural landmarks.
Led by UCR's Dr. Sean Jasso, senior lecturer in management and expert in corporate governance and global business strategy, as well as Dr. Stuart Kewley, CEO and founder of the Eurasia Consortium, a globally-focused strategy consulting company.
Grow intellectually and culturally, making new global friends and colleagues. Create life-long memories aimed at strengthening your competitiveness for the jobs of tomorrow.
Earn a certificate of completion from Mansfield College, University of Oxford – unique only to executive programs.
For more information contact Dr. Sean Jasso
Important Dates:
Spring
Depart from LAX Saturday, March 22, 2020
Depart from London Saturay, March 28, 2020